The corn is up…so are the peas and beans! It is such an exciting time when we see the trees in bloom and look for the promise of a season great tasting food. We've been busy setting out onions, potatoes, lettuce, greens, arugula, beets…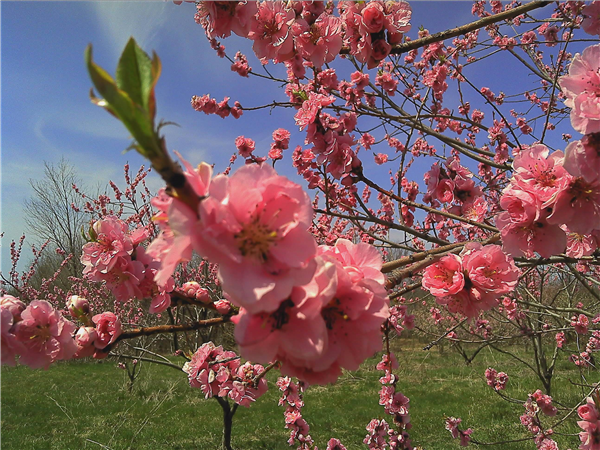 I can't wait for a great tasting salad. I planted greens in by kitchen garden during the fabulous weather, but the hens have been out daily and seem to really enjoy them; so I'll have to wait for the crops in the fields (away from the chickens) to get ready. The weather has been odd, and a little scary with the very cold nights we had at the end of April. Thankfully we had the auxiliary heat running in all the coldframes, so everything fared alright. I have to say, without that heat, the crops would have frozen in the coldframes (unheated hoop houses). Now some things are ok with 25 degree nights. We had the lettuce and other greens outside on benches and they were frozen solid in the morning. But Glenn and Larry loaded frozen lettuces on the truck at 6 AM and they were all set for sale at the Somerville market a few hours later. That cannot happen with the peppers, tomatoes and other tender crops. If they freeze, there is no chance of recovery.  Now it looks like we've used up all our nice weather credits for a while, so if you are planning your own garden, please stay on our traditional schedule or be prepared to take whatever precautions are necessary to protect your plants. I know all the folks who live inside 495 are all set, but out here in Central Mass, we are bound to have a few more frosty nights.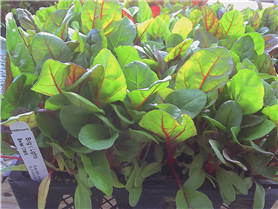 Swish chard transplants, ready for your garden
Lunenburg Greenhouses are open, daily 9-5! 

For the absolute best selection of all the heirloom tomatoes, super cool annuals and endless Hostas, it is worth the trip to the Lunenburg greenhouses. No worries, if you buy more than you can fit in your car, we'll get it to a market near you for later pickup 🙂 
Let's not forget about all the gorgeous hanging baskets, unusual mixed containers created by
Kate, Proven Winners, All American Selection Winners, every cool plant you've wanted to create your own mixed container, herbs, perennials….
Plan your gardens AND  your container gardens. A list is helpful, and pictures are awesome! Bring your inspiration picture with you and we'll help you create your dream garden or container garden. This year we have even more  tomato varieties, specially grown for containers and hanging baskets. Why not devote a large pot in a sunny spot to a few dwarf cherry tomatoes, basil, and a leaf lettuce.
It's also a clean and friendly place to visit.
For sale now: 7 varieties of lettuce, upland cress, arugula, mesclun, mixed greens, Winterbor Kale, redbor Kale, Tuscan Kale, Red, Green, Savoy and Chinese Cabbage, Broccoli, Cauliflower, all sorts of herbs, including like a million basil varieties, parsley, cilantro, lavender, lots of thyme, mints… and, there are tomatoes, peppers, eggplants and cucurbits ready!  There are also lots of beautiful annuals and amazing perennials ready to go. By mid-May, everything will be ready to go.
Where to buy plants this Spring:
Somerville Market Sat 10-2
Jamaica Plain (starting Sat 5/12)
Copley (starting Tues 5/17) City Hall (starting Mon 5/21)

*Lunenburg daily 9-5
*New Braintree Th & Sun 12-5