Wow! Where did the off season go?  Here's January News as sent via email earlier today.
Such a busy time of year for us! Most people would think we have nothing to do and go on vacation, right? We have spent countless hours plowing through seed and plant catalogs, placing orders, and doing general research to ensure we have the most amazing selection of vegetable, herb, annual, and perennial plants AND actual fruits and vegetables. We know you expect a mind-boggling variety from us and we love growing it! Some plant winners from last year you will see again: Carmen Italian frying peppers, Mama Mia pepper, African Sunset petunia, Sunsugar cherry tomatoes and, of course, all the awesome wave petunias, and a tomato selection that cannot be outdone.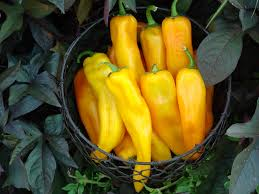 Mama Mia Giallo® Picture from all-americanselections.org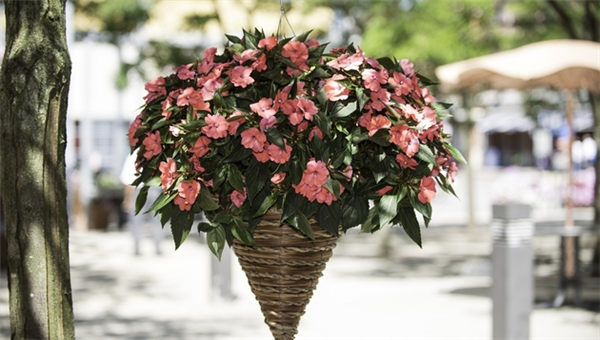 SunPatiens Shell Pink® Picture from all-americanselections.org
A few new exciting offerings are the spreading SunPatiens, Impatiens Bounce, Stevia…
As for actual food, everyone loved the snow peas, Mama Mia peppers, dried beans, Ghost peppers, and, of course, we'll be back with all the regular crops like peaches, berries and artichokes. Glenn is hoping to expand the artichoke supply this year – it's a lot of work but so worth it!

Yes, all this is Conscientiously Grown, that's our commitment to our family and yours. That means no GMO/GE! I would like to ban genetically modified anything from our town so we would not worry about pollen moving. Do you think that is possible? Anyone know how to go about such a thing?

 If you haven't "liked us" on Facebook yet, it's been a handy way to keep folks updated on whatever is going on at the farm, markets, etc. Like us today.
I mentioned last month that it is time to order next season's CSA and market bags. I have not decided if the design will change or the color of the bag. Anyone have a preference? We will also have the new Boston Public market venue where we will be selling Stillman's swag alongside our plants and produce. Should we have a Stillman's T-shirt contest? Is there interest out there to design a shirt or bag for us? Let me know.
There are several projects scheduled in connection with the Boston Public Market. These will be improvements that will benefit all our customers. It's exciting and a little stressful. We will be hiring retail help for the Boston Public Market opening in June; if you or someone you know is (or will be) looking for year-round work, has retail experience and an interest in great food, please contact me. I will be advertising the job soon, but would rather hire within our group.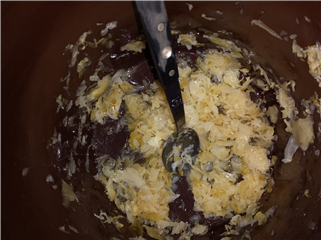 The bottom of the kraut crockI had to bag up all the sauerkraut this week. Mold had started to form on the top, so I scummed that off and bagged up the rest for the freezer. Naturally, I reserved a large tub for the fridge and we had Reubens and then a huge pan of kraut, kielbasa and taters – YUM! My girlfriend announced she wasn't a fan when I offered her a taste, but after the first forkful, she was hooked and ate a bowlful. What a great use of surplus cabbage.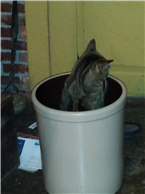 Apollo discovered the crock later
I got Glenn a wildlife camera for Christmas and we set it up in a barway into to the orchard. One day after a light snow, I went down with much excitement. I saw rabbit tracks, fox tracks, coyote tracks and some other track I did not identify. I raced up to the house to see the pictures on my computer. NOTHING! OK, well that's not entirely true; there was a cool nighttime picture of the trees and a couple daytime pictures of the cornfield. Due to the unbearable cold wind the past week (and my depressed annoyance), I have not put the cam back out. We'll see what tomorrow brings. I really hope to be posting cool pics of the creatures we share the farm with.
I spotted one of the Bobcats this week. He/she darted out in front of me on the road, crossing from one field to another. Perhaps I should mount the wildlife cam on the front of my car? 😉 The Bluebirds were busy in the pasture today. It had opened up a little after the rain last night; I hope they were all finding tasty things to eat. The severe cold has wiped out most of the food stuffs around here, so I am glad when the birds can get to the open ground for a spell and fill up. Glenn always leaves several pieces of corn standing all winter so the larger birds and animals have feed. The volume of turkey tracks in the cornfields is tremendous!
Glenn has been clearing out some hedgerows. We use this wood to heat the house and we chip the brush to mulch the blueberries. The new found space will be for hops or pears. This is not a new concept, the early New England farmers often planted the edges of fields with fruit trees. It was a perfect use of land that could not be tilled or pastured and the trees provided a little shade for the weary worker or livestock.
Stillman's CSA
Thank you for all the sign ups! As you know, we are busy ordering seeds and such, so the cash flow is great! The seed companies offer cash discounts, we order our bags, the reusable bags, and so much more. CSA sign ups help the cash flow of running a farm. Please consider signing up now to not only continue with the year's plans, but to secure your food supply too! For those of you who have participated in CSA with us, you know your strawberries are secure. I think we have the most customer requests for buying the berries we have set aside for our membership. How cool is that?! It is important to know that CSA benefits the farmer and the member at Stillman's.
For those who have already signed up – thanks!
City Hall will move to the Boston Public Market location.
SIGN UP TODAY!  Already a member? Login here
The signup is very simple, just follow the prompts and at the end you can opt for a CC payment or a check.  Thank you so much if you have already signed up for the summer CSA. If you are renewing, the new farmigo system should recognize you when you login. If you are new to the system, it is very simple, you will create an account and you can log back in anytime to update your info, switch pickup dates, make payment…. Sign up today !
Thanks!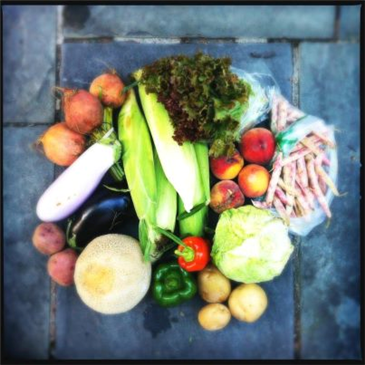 A great CSA haul picture from member Jessica!